I have been on the lookout for a platform with wheels I can attach behind my chair to tow able-bodied companions along while they hang onto the rear handles. (like this one which I can't find online).
I have added an update to the bottom regarding a product I found in 2021.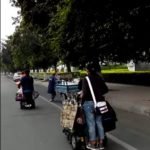 There are plenty of these designed for children, for attaching behind prams.


One of the most popular is the Buggy Board.
This is funky, but they state it can only carry 20 kg weight. Still, if you want to tow a kid behind you you might be able to get it to work on a wheelchair.
Finding one designed for adults and for attaching to wheelchairs is more difficult. The only one "commercially" designed that I know of is the "Care E On". The website is terrible, with cheesy music to a video that starts automatically and American flags all over the place. Still, it might work for you.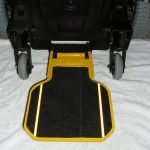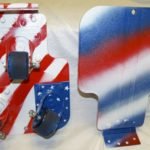 Having contacted these guys, I have to say they were helpful but a bit amateurish. Good on them for trying though.
Another possibility is getting one made up yourself.
I found these guys, Tony's trailers, on the web.
I'm pretty sure they would make up anything you wanted.
They say "We Sell Directly to you, Custom Build, and Ship to you Anywhere in the World. No Dealers."
The other alternative is to make it yourself. It doesn't look too difficult. Easy attachment/detachment, flip up design, minimal intrusion with things such as wheelie backpacks and so on are some of the issues.
There are a couple of organisations in Australia that I know of with volunteers who might be able to help.
One is "scope" and the other is "TadVic", who used to be "scope"!? It looks like there must've been a split at some point. The bloke from TadVic told me that scope were the "BMWs" whereas TadVic were more humble and simple.
If I ever get around to finding one or building one I will try and remember to update this post!
Update (2021):
I found this product recently.
It's available from a model called travelscoot.
It looks pretty sturdy, although you have to alter or weld the attachment to your wheelchair somehow.
It's called the "Standing trailer for the TravelScoot as well as other electric mobility scooters and wheelchairs.
The Travelscoot is a lightweight folding wheelchair which obviously could be great for some people.
There is an Australian travelscoot dealer but they don't seem to have the standing trailer on offer.
I found one for sale in Germany for about €350 (about AU$550).
It looks a bit agricultural and I'm sure a local engineer could whip something equally as good.