We decided to go to Kew gardens on a sunny 31 degree day in autumn, 2016.
We thought of a river boat but it turns out the boats are not accessible.
To get to Kew Gardens, there is an overground train from Waterloo to Richmond. Kew Gardens station is closer than Richmond to the main entrance (Victoria gate) but it only has access from the return (gardens) side. You can get the train back from Richmond to Kew Gardens and then it's a 5 minute walk to the entrance. 
If you are up for it, it's a 1 km walk back from Richmond to the southern Lion Gate. There is also an accessible bus every 10 mins from Richmond to the Lion or Victoria entrances. To get home, you can then take the train back direct from Kew Gardens station to Waterloo.

We caught the bus from Richmond to the Lion gate and then walked past the Pagoda to the Pavilion for lunch.
If it's hot take enough water as there are very few spots to refill.
There is a road train that runs around the gardens called the explorer. It costs a few pounds for hop on hop off all day. There is a ramp at the back for one wheelie. It looks OK unless you are really long or wide.
We then went to the treetop walk This is accessible by lift, and free! It's not high enough to see over the treetops so there are no views but being up near the canopy is always fun. The walk was swaying in the breeze which alarmed many of the more timid souls.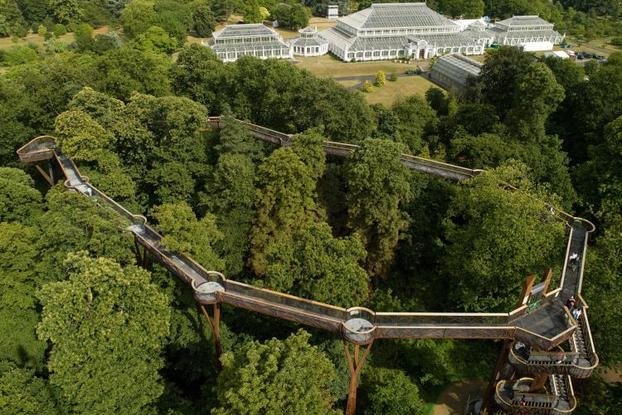 .
We then walked to Queen Charlotte's cottage. This was closed (only open on weekends, 11am-4pm). I don't imagine it is completely accessible although the ground floor may be.
Next we followed the river along to Kew palace, checking out various novelties along the way. There is food, free water and an accessible loo at White Peaks cafe. The palace is interesting, with ramps and a lift to most areas. It was occupied by (Mad) King George III and Queen Charlotte.
We wandered back to the Victoria gate, past the Hive (which we had already seen at the World Expo in Milan in 2015) and the Palm house.
That's a pretty comprehensive walk, but we still skipped a couple of things, such as the Bonsai House and the Royal Kitchens.